Onyx: A Lux Novel Book 2 Review
by Jennifer L. Armentrout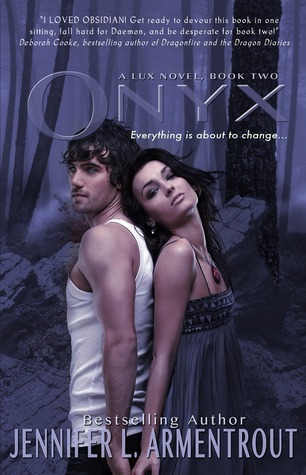 Overview
Daemon's determined to prove what he feels for me is more than a product of our bizzaro alien connection. So I've sworn him off, even though he's running more hot than cold these days. But we've got bigger problems. I've seen someone who shouldn't be alive. And I have to tell Daemon, even though I know he's never going to stop searching until he gets the truth. What happened to his brother? Who betrayed him? And what does the DOD want from them–me.
My Review
I started to read this series, because a reviewer claimed my book The Zeuorian Awakening was a ripoff of Obsidian and I was curious to see if in fact the author plagiarized my book, which they didn't. Then I decided to read the next book since I liked the first one and I'm a sucker for serials with cliffhangers. I also wanted to research how other YA authors wrote scenes where a character is learning to control their powers for my novelette, Control.
Even though the second book was more original and didn't follow Twilight like Obsidian, it wasn't as good. I found myself skimming and wanting to slap Katy for being stupid.
And the first half of the book Katy kept refusing to accept Daemon really liked her and that it was a product of their alien connection. It didn't matter how many times he tried to prove otherwise and apologize for being mean to her, she refused to believe he liked her–being bullheaded and stubborn as usual. At first I had no issue with Katy pushing him away, but it got old really quickly.
***spoiler alert***
Next enter Blake a new possible love interest. He immediately goes after Katy, making Daemon jealous and suspicious. Katy jumps to date him since he's normal unlike Daemon.
The DOD appear questioning about the fight in the woods when Katy killed the Arum. Daemon is claiming he did it. They are hiding their connection from the other aliens.
Katy gets sick and develops powers from her connection to Daemon and causes a few incidents. She discovers Blake has powers too and is like her–an alien hybrid. Daemon made her one when he healed her. Blake warns she must hide what she is since the DOD want her kind. They want to use them. Daemon doesn't want her to tell Dee and Katy agrees. The beginning of end of their relationship.
Blake offers to train Katy. Daemon warns her not to train with Blake since something is off with him. But as always she ignores his warnings even when Blake threw a knife at her and set her up to fight an Arum by making a phone call to someone. She also blows off Dee, her blog and other friends in the process.
Then Katy spot Bethany, Daemon's missing twin brother's girlfriend who was supposed to be dead. She tells Daemon. He doesn't want her to tell Dee about it. Another lie. They follow the DOD trying to find her and his brother, Dawson.
Low and behold Daemon was right about Blake. He is working with the DOD under duress and throws Katy under the bus. He kills Dee's boyfriend in the process. Everything goes downhill from there.
Review Rating: 1 Star out of 5
---
About The Author
C. Zablockis is an Indie author of paranormal, dark fantasy and horror novels. She published Lexi Greene's Dangerous Lesson, Lexi Greene's Grim Awakening, Monster (The Zeuorian Series) and My Watcher (The Zeuorian Series) YA Dark Fantasy Thriller.