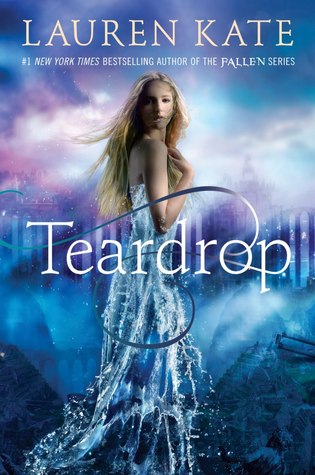 Title: Teardrop
Author: Lauren Kate
Genre: Young Adult, Teen, Fantasy, Paranormal, Romance, Supernatural
Publisher: Delacorte Books
Publication Date: October 22, 2013
Pages: 441
Rating: 3 stars
Synopsis (from goodreads):
Never, ever cry…
Seventeen-year-old Eureka won't let anyone close enough to feel her pain. After her mother was killed in a freak accident, the things she used to love hold no meaning. She wants to escape, but one thing holds her back: Ander, the boy who is everywhere she goes, whose turquoise eyes are like the ocean.
And then Eureka uncovers an ancient tale of romance and heartbreak, about a girl who cried an entire continent into the sea. Suddenly her mother's death and Ander's appearance seem connected, and her life takes on dark undercurrents that don't make sense.
Can everything you love be washed away?
My Review:
I really enjoyed Laruen Kate's Fallen series. So I bought Teardrop expecting it to be as good if not better. However, I was sadly disappointed.
Overall the book had a good premise, but it was extremely slow and packed with a lot of description and backstory (Eureka thinking about past events and describing it.) More than half the book was inside Eureka's head with limited dialogue and interaction. After the first six chapters of non-stop description, I found myself skimming the rest of the book and I didn't miss a single plot point. Hmm.
Although, I spotted several typos. As an indie author, I constantly hear stereotypical remarks about how Indie books are poorly written and filled with grammatical errors. Maybe that's so for some indie books, but I'm finding published books editing are lacking as well.
The characters in the book were so-so. I liked Cat's character the best. She had a likeable personality compared to Eureka. Eureka was self-absorbed and clueless to the obvious like Brooks acting differently. Brooks, I would've liked to have known the character more and through interactions than Eureka describing him. Ander was lukewarm for a love interest.
The love story was too quick and lacked emotion. It felt forced to me.
Despite the slow storyline, I'm probably going to buy the next book since the story did intrigue me and I like to know what happens next. Hopefully, Lauren will read her reviews and spend a little more time chopping unnecessary description from her next book.
Rating System
5 Stars: Positively loved and adored. A new favorite.
4 Stars: Excellent. Kept me hooked until the last page.
3 Stars: Good. Pleasant and enjoyable. Not great but not bad.
2 Stars: Mediocre. This book needed something more. Very uninspiring.
1 Star: Poor. I didn't enjoy this book. It was a struggle to finish.
DNF: Did not manage to finish this book.