Opposition: A Lux Novel BOOK 5
by Jennifer L. Armentrout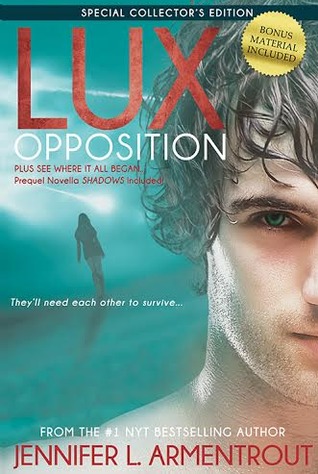 Overview
The world changed the night the Luxen came, and now Daemon will do anything to save Katy…even if that means betrayal. For Katy, the lines between good and bad have blurred, and love has become an emotion that could destroy them all. As it becomes impossible to tell friend from foe, and the world crumbles around them, they may lose everything–even what they cherish most–to ensure the survival of their friends…and mankind. War has come to Earth. And no matter the outcome, the future will never be the same for those left standing.
My Review
I started to read the series, because a reviewer claimed my book The Zeuorian Awakening was a ripoff of Obsidian and I was curious to see if in fact the author plagiarized my book, which they didn't. Then I decided to read book 2 and 3. I was going to give up on the series, but I'm a sucker for serials with cliffhangers. So I bought book 4 and 5 to see what happened to Katy.
I really had a hard time getting into this book. The whole alien invasion I had a difficult time with. As well as Daemon and Dawson are the only ones not controlled by the Luxen leader like Dee. Not once did they try to get word to Katy or Bethany of the situation.
Of course Katy does something stupid and gets caught. Her typical. Daemon must risk being considered a traitor and killed to save her, again. Then while surrounded by aliens who want her dead, they have sex. Ah, please. Talk about a filler.
Dawson, Daemon and Katy escape with DOD and Luc's help. Dee stayed behind. She doesn't want to feel anymore and likes being a drone. Okay.
Now they are staying with the DOD and helping to fight the aliens. All the while having sex. That was the point I skipped to the end. I had enough.
***spoiler alert***
Just as I suspected everyone survived and the bad aliens were taken care of by the Arum. Daemon and Katy now live together and go to college in Colorado. They are getting married soon. Dee has a beau and Dawson has a kid with Bethany. All is great in the world and they are also free of the DOD.
Only bad that came out of everything is that Katy's mom died, which was no big deal to Katy or to me. Her character sort of disappeared after book 2 and any feelings for her disappeared as well.
Review Rating: 1 Stars out of 5
---
About The Author
C. Zablockis is an Indie author of paranormal, dark fantasy and horror novels. She published Lexi Greene's Dangerous Lesson, Lexi Greene's Grim Awakening, Monster (The Zeuorian Series) and My Watcher (The Zeuorian Series) YA Dark Fantasy Thriller.