Origin: A Lux Novel Book 4
by Jennifer L. Armentrout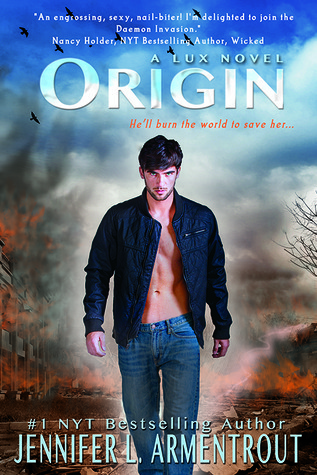 Overview
Daemon will do anything to get Katy back. After the successful but disastrous raid on Mount Weather, he's facing the impossible. Katy is gone. Taken. Everything becomes about finding her. But the most dangerous foe has been truths are exposed and lies come crumbling down, which side will Daemon and Katy be standing on? And will they even be together?
My Review
I started to read the series, because a reviewer claimed my book The Zeuorian Awakening was a ripoff of Obsidian and I was curious to see if in fact the author plagiarized my book, which they didn't. Then I decided to read book 2 and 3. I was going to give up on the series, but I'm a sucker for serials with cliffhangers. So I bought this book to see what happened to Katy.
The book was interesting, but I still had a hard time believing the DOD or Dadelus, would kidnap and torture previously human now alien-hybrids. Like I said in my review of Opal, I have my conspiracy theories like many people do, but I also don't think a secret government group would be stupid and kidnap a person and then ask them to join their cause. They would ask them first so the person doesn't immediately think they are bad and refuse to help.
I also had an issue with Katy fighting the secret group. It was a little stupid. She knows there is no escaping. They are going to spray her with stuff that makes her suffer if she refuses to cooperate. But she does it when a doctor tries to exam her and take blood.
I was surprised Dee pretty much wrote Katy off. She no longer cared about her. And Dawson after Daemon and Katy risked everything to help him get Bethany free, tried to stop him from saving Katy.
***spoiler alert***
After Luc sprung Daemon and Katy out of area 51, Dee, Dawson, Mathew, Ash and the gang show. They finally decided to try and save them. Of course this is after they graduated high school 4 months later, which they rub into Katy's and Daemon's faces. Daemon gets a warm welcome and Katy a so so one. Still the outcast, but Dee finally forgives her for Adams death. Please. It never was her fault in the first place.
Like the other books just when they thought everything was safe another friend turns on them–Mathew. He was the one who sold out Dawson and Bethany. They run for their lives and make a public speculation on TV to keep from getting capture. It still amazes me why that hadn't happened earlier with so many hybrids escaping the DOD.
The book ends with an alien invasion and Daemon, Dee and Dawson joining them while leaving Katy, Bethany and origins behind.
Yet again I skipped reading half the book to bypass the boring parts and find out what happened at the end.
Review Rating: 2 Stars out of 5
---
About The Author
C. Zablockis is an Indie author of paranormal, dark fantasy and horror novels. She published Lexi Greene's Dangerous Lesson, Lexi Greene's Grim Awakening, Monster (The Zeuorian Series) and My Watcher (The Zeuorian Series) YA Dark Fantasy Thriller.