Opal: A Lux Novel BOOK 3
by Jennifer L. Armentrout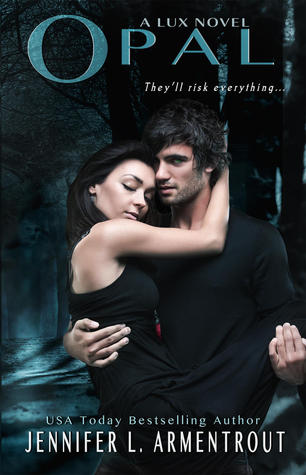 Overview
After everything, I'm no longer the same Katy. I'm different… And I'm not sure what that will mean in the end. When each step we take in discovering the truth puts us in the path of the secret organization responsible for torturing and testing alien hybrids, the more I realize there is no end to what I'm capable. The death of someone close still lingers, help comes from the most unlikely source, and friends will become the deadliest of enemies, but we won't turn back. Even if the outcome will shatter our worlds forever.
My Review
I started to read the series, because a reviewer claimed my book The Zeuorian Awakening was a ripoff of Obsidian and I was curious to see if in fact the author plagiarized my book, which they didn't. Then I decided to read the next book and continued to read the third book despite not liking the second book as much as the first one.
Yeah, I know, I'm a sucker for serials with cliffhangers.
Anyway Opal was a little better than book 2. The story is focused on getting Bethany, Dawson's girlfriend out of DOD hands with Blake's help. He is no longer with the DOD and wants to free his alien friend too. He is blackmailing Katy and Daemon into working with him. They agree only if he helps to get Bethany out too. Of course the plan doesn't go smooth and Blake turns on Katy again.
Katy wasn't as stupid in this book and she actually thought of something smart to handle Dawson. However I thought it was a little ridiculous Katy took complete responsibility for Adam, Dee's boyfriend, death when she tried to stop Blake, but she couldn't.
Even though the book was better than Onyx, I found myself getting bored halfway through the book. I ended up skipping to the end so I could find out what happened instead of reading the second half of the book.
I also had a hard time believing the DOD would kidnap and torture previously human now alien-hybrids. I have my conspiracy theories about them like many people do, but I also don't think they're stupid and force people to join their cause. Something like that will leak out. And they would talk to the new hybrid's first. Win their trust. It's easier to work together when they cooperate than force them. It's also easier to keep the whole alien thing under wraps too. No fear of a previous captive spilling to the news.
Review Rating: 2 Stars out of 5
---
About The Author
C. Zablockis is an Indie author of paranormal, dark fantasy and horror novels. She published Lexi Greene's Dangerous Lesson, Lexi Greene's Grim Awakening, Monster (The Zeuorian Series) and My Watcher (The Zeuorian Series) YA Dark Fantasy Thriller.